If you own a Telegram Channel, congrats, you are about to start getting paid by Telegram. Telegram Ads has been launched officially, and here is all you need to know about it.
Telegram advertising platform launch was announced by the founder "Pavel Durov" in his messenger channel, assuring that most users "hardly notice the change" due to the approach to displaying advertising messages.
Before now, Telegram announced the launch of its advertising platform at the end of 2020. And now it has been launched. And is currently in test mode. Telegram says that they will start sharing ad revenues with channel owners when they cover their main expenses.
According to the terms, adverts will be displayed at the bottom of the feed and tagged "Sponsored Posts." and will go through a mandatory moderation – clickbait and unrealistic promises, shocking or sexual content, references to a person and any preferences, gambling, agitation and political advertising, drugs, tobacco and alcohol, weapons, spam and much more are prohibited and can't be promoted on the telegram Ad platform.
Key Principles Of The Telegram Ads:
The founder of Telegram named three key principles that will ensure invisibility of advertising on the platform:
1- Telegram will not show promotional messages in chat lists, private conversations or groups. Advertising will only affect large channels (more than 1000 subscribers) – services where there is already advertising, and the support leads to the greatest costs on the part of Telegram. Personal data will not be used to display ads. The content of advertising messages will depend only on the topics of the channels in which they are displayed and not on users' data. Official Telegram advertising messages will be discreet. Only short texts (up to 160 characters) are allowed without external links or photographs. An advertisement may appear only after viewing all new posts on the channel.
2 – "There are advertisements in Telegram channels, which are published by the owners of Telegram channels in the form of ordinary messages. The official advertising messages that Telegram implements will be much more user-friendly. Revenue from such advertisements will allow Telegram to continue to provide users with a free and unlimited service. "
3 – The Durov Code Telegram channel also showed the Telegram platform cabinet. The cost of advertising per thousand impressions is 2 euros, and the minimum advertising budget for launch is € 2 million.
A sample of the Telegram Ad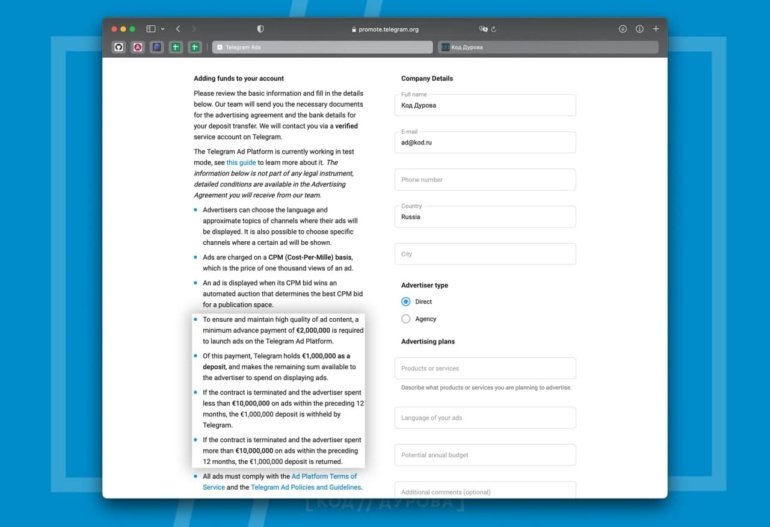 Telegram is a large community-based platform; with the launch of the Ad, content creators can earn revenue, similar to YouTube, AdSense and Facebook ad networks.